The 0.4mm PCB board thickness is the beginning of a multilayer PCB, which is almost the minimum thickness for a PCB engineer to design a multilayer board.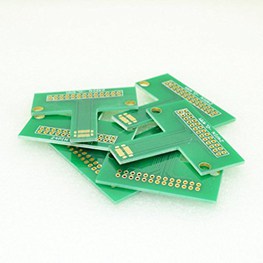 By combining different core thicknesses and prepregs, a wide range of finished PCB thicknesses can be achieved. However, customers can choose from a variety of laminate thicknesses ranging from 0.008 inch to 0.240 inch, including 0.2 mm (0.0079 inch), 0.4 mm (0.016 inch), 0.5 mm (0.020 inch), 0.6 mm (0.024 inch), 0.8 Mm (0.032 inch), 1.0 mm (0.04 inch), 1.2 mm (0.047 inch), 1.5 mm (0.062 inch), 1.6 mm (0.063 inch), 2.0 mm (0.079 inch), 2.3 mm (0.091 inch), etc.
The board thickness is the measured mm thickness of the substrate, including the copper foil on the top and bottom. So the thickness of the circuit board does not represent the final thickness of the PCB, because we need to add plating, solder mask, etc. If you need a final thickness of 0.4mm, then we will use 0.3mm raw materials to manufacture your PCB board
PCB thickness range:
0.2mm PCB 0.4mm PCB 0.6mm PCB 0.8mm PCB
1.0mm PCB 1.2mm PCB 1.5mm PCB 1.6 mm PCB
2.0mm PCB 2.4mm PCB 3.0mm PCB 3.2mm PCB
3.6mm PCB 4.8mm PCB 5.6mm PCB
board, 0.4mm ultra-thin PCB board
● Number of production layers: single-sided, double-sided, multi-layer
Processing area: 1200MM × 600MM
Board thickness: the most thick: 0.1MM; the thickest: 4.0MM
Minimum line width and line spacing: minimum line width: 0.05MM; minimum line spacing: 0.05MM
The smallest pad and aperture: the smallest pad: 0.6MM; the smallest aperture: 0.1MM
Tolerance of metallized holes: Pth Hole Dia. Tolerance ≤ diameter 0.8 ± 0.05MM > diameter 0.8 ± 0.10MM
● Polarity difference: ± 0.05MM
Anti-electrical strength and anti-peeling strength: anti-electrical strength: ≥1.6Kvmm; anti-peeling strength: 1.5vmm
● Solder resist hardness: > 5H
● Hot shock: 288 ℃ 10SES
Burning level: 94V0 fire rating
● Solderability: 235 ℃ 3S internal warpage degree t < 0.01MMMM ion cleanliness <1.56 microgram square centimeter
Base material copper foil thickness: 13OZ, 12OZ, 11OZ, HHOZ, 1OZ, 2OZ, 3OZ
● Plating thickness: nickel thickness 5-30UM gold thickness 0.015-0.75UM
● Reliability test: open / short test, impedance test, etc.
● Solder mask color: green, black, blue, white, red, yellow, purple, gray, etc.
● Character color: white, black, red, green, blue, orange, etc.
● V-cut: Angle: 30 degrees, 35 degrees, 45 degrees Depth: Plate thickness 23
Commonly used substrate: ordinary cardboard: 94HB non-fireproof, FR-1 fireproof, FR-2 fireproof, fireproof glass trip board: 22F half glass trip, CEM-1 half glass trip, CEM-3 half glass trip, FR-4 all Glass trip, Rogers, Isola, Nelco, Arlon, aluminum substrate
● Customer information: GERBER file, POWERPCB file, PROTEL file, PADS2007 file, AUTOCAD file, ORCAD file, PCBDOC file, template, etc.
Founded in 1987, is an annual professional circuit board prototype, specializing in the production of single-layer PCB boards, double-sided PCB boards, multilayer PCB boards, high-precision PCB boards, impedance PCB boards, ultra-thin PCB boards, halogen-free PCB boards, soft and hard Combined board and so on. PCB proofing and small and medium batch production, dedicated to the production of high-precision double-sided and multilayer circuit boards, specializing in serving domestic and foreign high-tech enterprises and scientific research units and electronic product enterprises.
Our products are widely used in communication, computer, power supply, digital, industrial control, science and education research and development, automotive, aerospace and other high-tech fields.